Posted on October 25th, 2021 in PC monitoring | Comments Off

on How to Achieve Multi-desktop Remote Real-time Monitoring
Nowadays, many educational institutions or schools have computer rooms for learning programming courses or other courses. The number of people in a course is basically between 20 and 40. The teacher needs to send commands to the students' computers or monitor the activities during the lecture. At this time, the console computer used by teacher needs to have remote monitoring software, which can not only send massages, but also remotely view or control students' computers.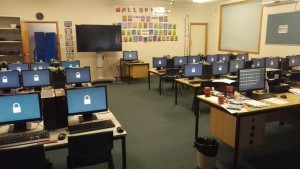 iMonitor remote tools can remotely view all the desktops of agent computers, and can adjust the screen size according to your needs. Of course, it also supports to check the target computer, when a student get a question, the console computer can remotely control it and do demonstrations, even to check classwork. If you need to upload the file of the agent computer to console one, or send files to agent one, file explorer can help with that.
For remotely control, iMonitor can not only control the mouse and keyboard of target computer, but also can restart, shut down, log off, lock/unlock screen, and send files. When teachers need students to do a certain task, it can send message or command to agent computers directly, such as assign class work. Generally speaking, the school does not allow students to operate the computer at will to prevent damage to the equipment, therefore, some activities need to be performed directly from the console computer.
When you are monitoring multiple desktops in real time, if you find that some students are not studying carefully according to the rules, but are browsing the web or other applications, from the real-time processed function can view the process, active connections and applications of agent computer, from end process function can select the target processes and end them.
It is worth mentioning that, you can check the information of the agent computer system through iMonitor. It records services, system information, IP address and shares. Equipment like school's computers that used by multiple people, requires regular inspection and maintenance. According to these functions, it can clearly see which computers need to be repaired.
iMonitor remote real-time computer monitoring software is suitable for all kinds of schools or educational institutions, helping teachers to centrally manage students, making classroom learning more efficient, and save teachers lots of tedious work. It has been adopted by many people, please try it and you will find how powerful the software is.