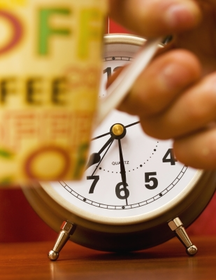 According to the 2012 In-House Creative Services Industry Report — a survey of more than 360 in-house creative departments from a variety of companies  and industries — more than 60%  use time tracking software. That percentage increases to 70% in teams of more than twenty members.
Many time tracking apps enable you to shift quickly between various projects and activities and back again with just a few clicks of the mouse. By recording how much time you spend on different tasks each day, you can better understand your own workflow, optimize the time you spend on your work, and offer greater accountability to your clients.
Understand Your Time Better
How much time each day do you and your employees  spend checking email, fielding phone calls, and working on administrative tasks? The answer might surprise you. You may spend less than five minutes checking your email — but those minutes can quickly add up over the course of a day. If you don't record your total time spend on this single task, you could be selling yourself or your clients short on your timesheets.
Although many of these tasks are not directly related to the project you're working on, they may still need to be completed in order for you to be able to work on your actual assignments.  With a clearer view of how you spend your time — and how that time adds up — you can take the guesswork out of your timelines, deadlines, and timesheets.
Increase Your Efficiency
By knowing how much time you and your employees spend on each type of task, you can identify tasks that can be reasonably shortened in length or eliminated completely without negatively affecting the project. Using the data within your PC management software, you can optimize your workflow to be more efficient as well as productive.
Some apps allow you to set target times or countdowns. If you have determined that you usually spend ten minutes on email, but really only need five, you can set a timer that will start when you start checking your mail, and alert you when five minutes have passed. This prevents you from wasting time on unnecessary or ineffective processes just because you didn't realize how much time had passed.
Setting a countdown as a goal for completing a longer task can also help to boost your productivity and energy level by acting as an inducement to completing said task within the stipulated timeframe.
Transparency and Accountability
Your clients often want to know exactly how much time you and your employees have spent on a project. By filling out manual timesheets or manually recording time, you often end up guessing how much time was spent on each task.
If you underestimate the time, you could wind up underpaid for the work that you did.
If you overestimate the time, you clients will overpay you.
If your clients discover a discrepancy in your hours, they could wind up asking awkward questions you'll be unable to suitably answer. "Why did this task take 3 hours last week and 6 hours this week? If these employees were working together, why do they have different hours recorded? How likely are you to go over-budget on this project?"
Using the data stored in your time tracking app, you can provide your managers and clients with consistent,  accurate and detailed reports of how much time was spent on each task or project. This extra layer of transparency and accountability will benefit your client and customer relationships and provide a positive effect on your business's reputation.