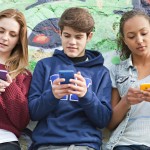 My child is in first grade, in order to get a facilitate communication, i bought her a cell phone.Recently, a child of his school is missing on his way home, and it was said that he was trafficked, and now the child has not been found yet.Now the bad guys really are too many, those traffickers are really have no a little bit of conscience and morality.Don't they know that what the children mean for a family? Don't themselves have children?After this incident all the parents go to school to pick up their children on time no matter at noon or in the afternoon, We don't let our children walk outside alone.Many children of this school seem to have been shocked by this incident, they dare not to go outside alone. We were very worried about our child, and even thought about changing schools so that he can forget about it, but considering the costs we gave up finally.
A friend who working on software recommended me a Mobile phone monitoring soft recently,this soft can monitor and record all the phone activites ,such as contacts, text messages, call content, GPS, photos, videos, etc., and i can view this info on the Web Console Center anytime.I was a little skeptical at first,don't know whether it can give me any help.My friend told me that this soft provide 3 days free trial, i can decide use it or not after my trial.I did that.It is really so wonderful soft.I can know my child 's Mobile phone usage in real time, including his call contents with other people, text messages, sent or received mails, where he is . With this software, we will be no worried to let our child go out to play, and we have time to do other things too.We bought 3 license finally,for our child and our parents.They're being older and older,this soft can help us take care of them better.
This mobile phone monitoring soft is called " iMonitor Phone Spy "( http://www.imonitorsoft.com/mobile-spy-software.html ).Maybe you can try it if you need.