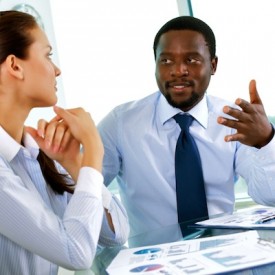 Let's face it – the hiring process can be a nightmare. Sorting the wheat from the chaff is an incredibly time-consuming task and there's no guarantee that you won't wind up getting burned after hiring a new employee. And that's not even taking into account the financial impact of turnover and training costs!
Make sure your employees never quit. Download this free eBook that highlights 6 keys to unlocking your employees potential and guaranteeing long-term success!
The bottom line is that you should try to keep good employees whenever you can. But sometimes, for various reasons, those good employees quit. If you aren't paying attention, a situation like that can catch you unaware and leave you in a very tight spot. If you know the warning signs to look for, you can spot employees who are thinking about quitting before they've even made up their minds.
There are three common culprits for sub-standard work—lack of professionalism, gaps in training or skills, and wrong instinct. Identify which issue is plaguing your new hire, then begin a productive discussion with these suggestions on how to tackle each one.
1. Professionalism
Issues of professionalism are the quickest to spot. They mar otherwise well-researched, well-thought out work with nuisances—e.g., your marketing coordinator's presentation was good, but she was 15 minutes late, or an otherwise solid press release is full of typos.
Whatever the reason—maybe your employee is overwhelmed, or perhaps she doesn't really grasp the consequences of flouting protocol—the best approach here is to be straightforward, and tell the employee that her great work is being overshadowed by issues of professionalism.
Where possible, point to the work as the issue, not the employee herself, and explain in detail why the issue is a problem. For example, "That press release was fantastic—you really grasped what's newsworthy about the event. But for an editor to take it seriously, the grammar needs to be impeccable, and I noticed several issues in this document."
For more personal issues, you can also emphasize the relationship between professionalism and advancement. Begin the conversation by talking about someone in a senior role, and discuss how she's known for being the grammar guru or the first one to arrive for a meeting. Making the conversation about someone who "gets it" is a way to talk through expectations without putting the employee on the defensive. By covering how professionalism adds to your opinion of a colleague, you'll also be addressing how it detracts when missing.
2. Training
At my last job, each new employee had to endure an hours-long training on a donor management system during the first week on the job. But, let's face it—while it was important to learn that software, the nuances of training didn't always stick (which our boss would discover when an important donor disappeared from the system or was called twice by two different people).
It happens. So, if your new employee seems to be lacking skills he was supposed to learn on the job—the phone system, the database, whatever—schedule a one-on-one refresher to walk him through any FAQs. Approach this discussion from the "we've all been there" perspective (and maybe lighten the mood with a story about a mistake of your own). But this time, as you go through the training, highlight why paying attention to specifics matters (e.g., "As you see, we group members by the year they joined, so it's crucial to input the date right away").
Of course, if the employee doesn't have the skills you expected him to come in with (i.e. the "social media expert" only knows Facebook and Twitter or the "Excel whiz" only knows basic functions), you have a bigger problem. Begin this discussion by saying that the first month on a job is the best time to ask questions and get training to fill in gaps, then bring up the specific issue: "I noticed the monthly report you turned in was a basic spreadsheet, but we typically use pivot tables for these. I was assuming you knew how to do that, but if not, I'd be happy to sign you up for some additional training." Let him know you're there as a resource for training or questions, but also be clear that you expect he'll be working on and off the clock to get his skills up to speed.
3. Instinct
Has the new hire who touted his networking skills spent his first few events in the corner? Is he hard-selling a client you'd take a kid-gloves approach with?
This discussion is the trickiest, because you can end up coming off as a "my way or the highway" boss when addressing it. So, the first step is to ask yourself if that is in fact the case: Are you asking your sales reps to stick to phone calls over emails because of their success rate, or because that's how you've always done it?
If it's not a matter of innovation, but one of culture or effectiveness, you must get your new hire on the same page. Begin the conversation by asking him why he approached a situation a certain way. For example, "I noticed that you were really hard-selling Al in the sales meeting today. Why did you take that approach?" This will give you a better idea of where you need to course-correct: Is he being authoritative because he feels no one is listening to the new guy, or does he have no idea how he's coming off?
Then, be sympathetic, but fill him in on "how things are done" from the viewpoint of the desired outcome. "I know it seems like that's a great way to get him on board, but with these types of clients, we typically take another approach." Then, explain why. By sharing not only what to do, but also why it's a best practice, he'll have a foundation for the next time he's thinking on his feet.
I know: There are some discussions that are simply never going to be easy for the person on either side of the desk. But remember, by nipping problems in the bud, you're helping your employee get on the right track—and that will decrease the need for these tough talks in the future.
Another thing is as the employer,we need to know the information of employees' working. Some computer monitoring software may help you, with the computer monitoring software , we can know what the employees were doing and how they were doing, then we can know better about our employees, about our company.