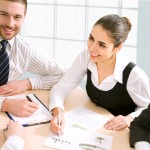 With the continuous development of science and technology, amount of work is done by computer in the enterprises , greatly increasing the convenience of work, but at the same time,also spawned a number of other issues, such as staff management issues. For example,employees might copy their company secrets to a movable device or cloud storage tool , this will bring some information security threats to enterprises. In addition, some employees often do some private live or play games,watching movies, online shopping, etc during working hours, the company office network is occupied mostly, which will affect the efficiency of the office. Due to the impact of these computers deputy, employee computer monitoring software was born. Employee computer monitoring software is an effective strategy for enterprise staff management. iMonitor employee computer monitoring software is a powerful, efficient and practical monitoring products for large enterprises, middle-sized and small business. Monitor computer and internet activities, track employee work hours, analysis and statistics employee computer usage, detect and terminate all internal unfavorable factors to the company and protect confidential business information.
iMonitor employee computer monitoring software can achieve multi-angle comprehensive real-time monitoring and monitoring records can be saved, the main features are as follows:
1.Centralized Computer Monitoring Software
2.Real time remote desktop monitoring and remote control.
3.Monitor computer file usage, disable USB device, protect valuable corporate data, prevent potential internal threats.
4.View the Total Amount of Time a Program was Used, view the Top 10 Most Frequently Used Programs, prevent productivity loss.
5.Limit computer usage, block website and application.
6.Keyword alerts and real-time alerts.
To a business manager, not only the management of company running career, employee management is also very important. Howerver advanced the work equipment is ,it need people to carry out operations performed, so choose a good employee computer monitoring software is very important !