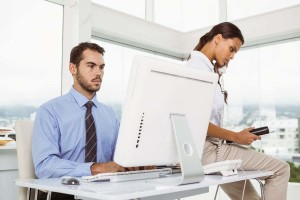 Office workers often ask for good screen recording software. And actually there are many different software which each with its own advantages. For the screen recording software, everyone wants to find a simple and easy to use, but also to meet the needs of our variety of record functions. We recommend a good screen recording software – iMonitor EAM (Employees computer activities monitoring software).
As a screen recording software, iMonitor EAM is a software that absolutely can't be missed, you can monitor and record the employees computer screens with its screenshots capture feature. You will no longer afraid of your employees to delete the company important information. This function caan be used for remote computer maintenance, remote technical support, remote assistance. All monitored screenshots can be saved on the local server computer, it will be more convenient for managers to logon EAM console to view logs at any time.
Another function is remote live desktop and control. You can run multiple remote desktops at the same time to monitor employees' working conditions in real-time without them know, even you can open the camera remotely in real time on the employee's computer to view their work scene. Besides, you can also take full control of remote computer's mouse and keyboard.
We provide the auto screenshot and monitor video as a proof, and administrator can set screen shot interval and video play quality. Also the video playback speed can be regulated.
iMonitor EAM as a screen recording software, more importantly, it is a secure software. Simple operation, powerful features, safe and non-virus, it is reassuring for enterprise to use. Many companies use the iMonitor EAM software, have solved the problem that employees are not responsible for work, corporate information disclosure risk. Some users also introduce customers to iMonitor EAM software. Choose to use iMonitor EAM software and give your business a multi-layer of protection.
Sharpness:
It is very important for a high sharpness of monitored screenshots. Generally a good screen monitoring software allows the user to setup the clarity of the screen. In this way, you can guarantee that in the unreasonable network environment, you will also have a better experience.
Fluency:
A lot of computer screen monitoring software have no problem to use in the LAN environment and everything shows normal. However, once you get outside the network environment, there will be more serious caton phenomenon, even disconnection. So fluency is also a very important parameter for such software.
iMonitor EAM computer monitor software is a very good monitoring software, it has the stable operation, smooth, clear screen. iMonitor EAM support all network types, such as local network, VPN, VLAN and Internet connections.
If you are interested in iMonitor EAM software, you can download free trial from below link: