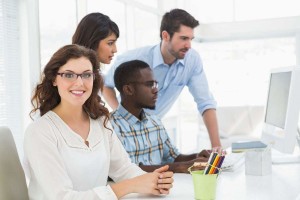 With the development of the Internet, computers are indispensable in daily work in most enterprises. The bosses usually have concerns on their employees work, if the employees use office computers to work normal during working time, or are they playing? Does the design department staff leak out the company's internal drawings? An effective way to prevent these problems is to choose an employee computer monitoring software. The following introduction is about the features of iMonitor EAM – computer monitoring software.
Computer logs monitoring
With iMonitor EAM, you can know better about employee behavior regarding the use of computer. You can monitor all the computer and internet activities of your employees. Such as visited websites, application usage, file activity, USB disk, print Job monitor, etc..
Chat conversation monitoring
You can remotely monitor employees' chat conversation such as Skype, Line, RTX, etc., iMonitor EAM can record the instant message content and take screenshots of instant message. It can also monitor the files activities to effectively know whether an employee do un-related work things or not and whether they leak company's information out.
E-mail monitoring
Many companies are accustomed to using e-mail for customer communication and exchange. Do employees leak or take away customers information by e-mail? This is necessary to monitor the employee's e-mail content. Through iMonitor EAM, you can monitor incoming/outgoing E-mail content in text mode and email attachments for Outlook, and you can view the screenshots of other webmails like windows live mail, thumbird, etc.
Block and filter function
Some employees always work games, shopping online, do a part-time work during the working hours. If you do not want your employees to view the unrelated website, you can block the unwanted websites, you can totally block the websites or block them during a specific time, as well the applications. Through keyword detecting, you can also stop something and prevent crises before they emerge.
Remote live desktop
Live desktop is one of the core functions of computer monitoring software. With iMonitor EAM, you can remotely view the employee's screen in real time, we support multiple live remote desktops, you can simultaneously view up to 30 screens in one window. In addition, iMonitor EAM also supports screen capture in time point for manager to review in future.
Last but not least, if you are interested in iMonitor EAM software, you can check this link to view the details:
http://www.imonitorsoft.com/