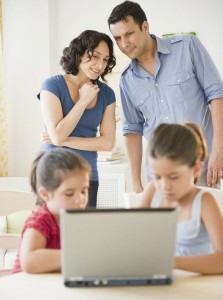 In this information society, the earlier one day someone access to the Internet, the easily he will go to the front of the Times. Your kids will also get a better life because of the contact with the fresh and healthy internet. Internet is resourceful but there are also a lot of potential dangers for minors.
If the child has Internet addiction, and indulge in endless games and online chat day after day, please do not worry. iMonitor 365 will help you effectively limit the time for kids to play and chat. With the help of iMonitor 365, the child's performance will rise again.
Parents should control the usage of computers for underage children, and this proliferation of bad information has become a universally accepted consensus. You will no longer have to worry about the child to come into contact with pornography, violence and other undesirable content and try to prevent children from surfing the Internet.
Parents can add some software that they do not want to be used, while kids can use other software. Obviously this setting is more in line with the actual habits of usage.
In any places where can access to the Internet, you can easily monitor and control the remote computers which you installed iMonitor 365 agent program.
To control the Internet time effectively. You can also setup the time to monitor the Internet time and computer usage time, it is very convenient. iMonitor 365 not only can monitor the Internet time, but also record the computers attendance time, file operation, etc.
It is the most comprehensive, flexible and humanized monitoring software. It can be detailed to specific websites and keywords to filter the bad information, absolutely it will be more accurate and efficient.
You can also add the installed games into blocking list in software, then the child is no way to open these games completely.
Besides, iMonitor 365 can record the target computer screenshots at time point. In this case, the parents will know more detailed that what the child do on computer.
If you want to view the target computer in real time, you can also choose iMonitor 365. With live desktop and remote camera, you can view live desktop screen of your child's computer. Open the camera of the computer remotely to view the real scene.
By using iMonitor 365, your child's safety guards when you are not around your child, you can disable filtering sites, online games, and proxy servers, and filter out all sites that are not accessible to children. And iMonitor 365 can work in stealth mode, your child will not find that he/she is monitored.