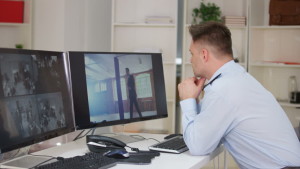 Why do employers want to monitor employees remotely? They monitor their employee computers in order to improve the efficiency of employees without their notification, in this way, the employer can totally monitor their employees computer activities.
As an employer, you probably have a natural urge to monitor employee activity. Don't worry, this is fairly normal, and there are plenty of valid reasons why you might want to keep an eye on what your team is doing.
With the computer monitoring software to monitor employees, the company more orderly and safe operation. And it is essential, especially the monitoring office empployees who are using the computers.
If an employer view the real-time working scene of the employees computers. They just need to use the live desktop function for all the employees computer, then multiple computer desktops will show up in real time, just like CCTV.
One day, employer found one employee browses the shopping site during working time. Order to avoid this kind of things happen again, employer can block and filter the website, this settings can be used for one specific employee, as well to all employees.
Is it legal to monitor the employee computer during working time?
Of course it is legal thing that an employer monitors his/her employee computer. Some employees often do some things out of work during the working time, such as watching video, surf the Internet, do other works, etc. Even some employees are leaking out company's information. In order to protect company's benefits, they can monitor the employees' work environment in computers to ensure effective work results.
Most computer monitoring equipment allows employers to monitor without the employees' knowledge, some employers do notify employees that they were monitoring.
If an employer monitor employees computer without their notification, the employer will know the real working condition of his employees in daily working. Thus improving effectively and save productivities of employees.
When an employer let employees know they are monitored, the employees will work hard deliberately some times. In this way, it can also achieve good work results.
With employee monitoring software, consist of monitor and agent program, you can collect all agents information from all the monitored computers to monitor computer. And deploy the settings to all the agents at just one time. Most of the enterprise can comprehensively and easily manage their employees all together.
According to computer monitoring, employers have the right to monitor employee activity in many situations. Here are some of the things you are allowed to do:
Monitor work computers & Internet activities during working time
View multiple live desktops like CCTV & Control remotely
Filter and block some specify sessions
Setup the Real-Time Alerts & Keyword Alerts
Overall, an enterprise choose to install this kind of software to protect their information security, they are not blindly monitor the behavior of employees records. And business leaders to install this product is the normal operation that the company have better to prevent some information security Leaked. After all, it is hard to imagine that some companies lost their important data.