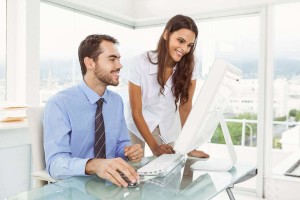 With the progress of the times, the development of science and technology. Most enterprises are using computers to work. Office computers not only can improve work efficiency, but also save a lot of costs for the enterprise, for the enterprise has brought tangible benefits and values. However, there are two sides to every thing. The computer office brings some objective risks to the enterprise as well as hidden potential risks. For example, during the working time, some employees might watch video, visit shopping website, play games to slow down the operation speed. But the most horrible thing is that employees leak out the company's information through the computer.
Most enterprises face some serious competition. And the leakage of important information could bring a fatal blow to the enterprise. Therefore, for a businesses, it is best to take preventive measures in advance. In the cruel and competitive market environment, iMonitorSoft specifically developed a software to monitor the behavior of employees computers and avoid the risk of corporate disclosure.
iMonitor EAM for an enterprise's help and management is mainly reflected in the following two aspects:
First of all, for daily computer activities monitoring: iMonitor EAM can monitor employee's computer in real-time. Including to monitor live desktop, screenshots, Instant messages, web browsing and application usage, etc. And iMonitor EAM software allows you to block and filter the website or applications unrelated to work. In this case, you can effectively guarantee your emplooyees will not do non-work-related operations during the working time.
Secondly, about information leakage protection: Through monitoring e-mail, chat and file to know if your employees send files to some one else. Either the content or attachments. Not only that, iMonitor EAM can also record USB device, FTP file transfer, etc.. You can also disable the removable storage device to prevent your employees to use USB. you can also setup the real time alerts, iMonitor EAM also support to set chat sensitive word alert. When your employees use the preset keyword, the system will automatically receive real time alerts, this allows you to discover whether your employees leak some important
If you want to know more clearly the employee's working condition and want to improve the working efficiency of the enterprise, also do not want to let the enterprise employees from the leak event. We suggest that you can use iMonitor EAM software as soon as possible to make sure your company is in the protection.