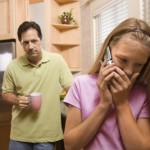 Phone spy is a kind of software that used to monitor and even control another phone. The purpose of using a phone spy are distinguished between malicious and goodwill.Malicious purpose is installing phone spy to other's phone without their knowing to eavesdropping the monitored phone's calls,watch the SMS and other criminal activities.Goodwill is mainly installing phone spy on themselves phone or their families' to protect their information security and to keep abreast of information on families dynamics,such as parents can know the child's location in real time, to understand the child's text messages and web browsing content in order to protect the child's healthy growth. There is also a very convenient use is when your phone is stolen, you can promptly remove the stolen key data and information on the phone, or even locked stolen mobile phone to get the thief unprofitable. Public security organization also sometimes use phone spy to quickly determine the location of the suspect.
iMonitor phone spy is very popular on the market and getting good reputation, its product performance is stable, easy to use. The main purposes of iMonitor's customers are monitoring their children and their families, no criminal purposes.With iMonitor Phone Spy you can silently monitor text messages, GPS locations, call details, photos and social media activity.Smart Phone is the most easy way to let people communicate with others. If you are a parent and you had bought a phone for your young children, please note the world is open, with the phone he or she can meet strangers easily via facebook, messengers, and perhaps your children will touch drugs, violence and pornography from strangers. How to keep your little kids away from these dangerous things? How to make children's every move is under the supervision of parents? iMonitor Phone Spy can help you!
iMonitor Phone Spy traces mobile phone in an automatic, stealthy and hidden manner. It can take you inside the mobile phone. All you have to do is to install the software on the target phone you want to monitor. Installation is very easy and will take only a minute. Once done, you will see all information recorded on the site via internet from anywhere in the world!
Welcome to download free trial: http://www.imonitorsoft.com/anywheremonitor-signup.html