The Computer Science and Technology development improves the work efficiency and speed of enterprises, but at the same time, it inevitably brings security risks. The network is a double-edged sword. If the enterprise use it well, it will bring benefits, but improper will make it worse.
With the continuous strengthening of competition among enterprises, network security management has been highly valued. In order to improve enterprise production efficiency, reduce unnecessary waste of resources, and help entrepreneurs cultivate a good corporate culture, numerous computer monitoring software has also emerged.
However, there are not many software that can view multiple Live-desktops at the same time and have remote control features. iMonitorSoft employee monitoring software is a very cost-effective tool. It is widely accepted by users due to its easy operation and high credibility.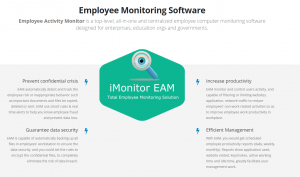 The purpose of deploying employee activity monitoring software is to regulate employees' online behavior, Prevent employees from browsing web pages aimlessly, prevent employees from entering illegal web pages by mistake, and help them build a good online behavior habit.
1.Live desktop and remote control, Manager, Monitoring, Save and play all the employee screen.
2.Block website, there are black-list and white-list for you to control the employee browsing online.
3.Application filter, you can block any application, and prevent them from install any new application as you wish.
4.USB device, You can record the USB activity, block it, or make it read only.
5.Social application usage monitoring, you can monitor almost social application, Skype, INS, MSN…
6.File/Data Security, record all the files activity, Document risks management and alert. Real-time file backup logs.