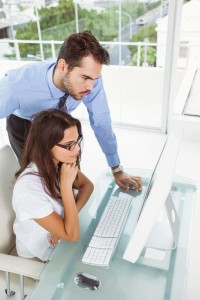 In most companies, most of the employees communicate with customers through Skype. Skype has become an important tool for us to communicate with customers, which is a great benefit to an enterprise. However, some employees talk about their personal matters through Skype during working time, more serious thing is that they leak some important information through Skype. in order to regulate and manage employees, the companies need a monitoring software.
iMonitor EAM can record the details of Skype conversation and the records will be uploaded and saved on administrator's computer, which can allow the manager to monitor employees Skype content. And all the activities will be recorded even the employees deleted the records, with this way, iMointor EAM can fully protect the integrity of monitored logs.
iMonitor EAM is the most widely used on the market a screen recording software. The use of screen recording software, the staff can clearly view the chat history, and the prestige of the screen video is stored in the management of the computer to facilitate managers at any time to see the employee's screen usage, many companies through the use of iMonitor EAM to help companies prevent leaks, and won the leaked lawsuit.
Except the chat conversation, iMonitor EAM can also monitor the file transfer, and backup the files in real time, this can help you to prevent the data loss.
iMonitor EAM also support to preset the Skype keyword and real time alerts, you can setup the important words. When detect preset keywords in keystrokes, clipboard, file name, print job name, website URL, website title, etc., it will take a screenshot as a proof or end the processing if one of the keywords is detected in the content. You will get an alert notification automatically. You can view the keyword and alerts logs from iMonitor EAM console panel. The manager will be easily to find out the problems.
iMonitor EAM is a professional computer monitoring software, computer screen monitoring but also to the user online behavior management and a series of functions.
Advantages: all computer operations can be recorded, it also has a powerful remote control function. The setup is very flexible and deployment is very simple. Support directly or remotely install on target computer. iMonitor EAM is very suitable for big enterprise.
With iMonitor EAM, an enterprise will know what employees are talking to work, they will also know more in detail whether the company leaked, which protect company information security.