As a manager, how do you manage your employees' computer behavior?
During work time, some employees chat online, play video game, download video, shopping online, network crashes often, computer often catches a virus and causes a lot of problems… All these problems are caused by employees' irregular Internet behavior. Therefore, the company's LAN network needs scientific and reasonable management and control urgently.
I believe that you are no stranger about Computer monitoring software. How to manager your computers in the LAN?
Remote work monitoring software can not only control, monitor and remotely operate employees' online behavior, monitor employees' computer behavior, such as playing games, online shopping, accessing illegal links, downloading software.
Employee monitoring software can prohibit employees from accessing specific links, record chat content, record U disk usage, prohibit downloading certain programs, manager files remotely. It can prevent employees spending too much time on which not related to the work.
So, how to use computer monitoring software to manager your workstation. Now, let's enquire iMonitor EAM details…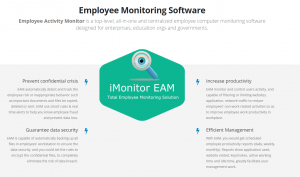 File/Data Security Setting, Block file transfer in E-mail application (Outlook, Foxmail, etc.) ,web page (Webmail, Facebook, Online storage, etc.),
Block file transfer in IM clients (Facebook, Skype, Wechat, Facebook, etc.)Block File Transfer in USB, USB Disk Monitor,Disable USB storage devices, Make USB storage devices read only.
File activity record, Record files activity, Log file usages (copy, move, delete, rename, create, modify.) Log file transfers.
Live Remote Desktop & Control, With iMonitor EAM, you can run multiple remote desktops, up to 30 screens. Meantime, you can control it remotely.
Website Filter Setting, You can add website list to stop your employee to visit them.
Website white-list, In other hand, you can also set the whitelist, it will allow the employee to visit the specific websites only.