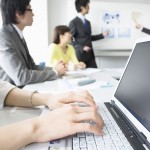 The computer is the main tool of modern business office, almost all of the data stored in the computer, all kinds of business letters are basically is through the network to complete . When it brings so many convenience, at the same time,it also has brought some risks to the enterprise, such as employee leak, information security, staffs secretly do other private jobs, play games, download movies, shopping etc.at work time. In order to protect company data security and take good management of employee, it is really very important to select a full-featured computer monitoring software.
The iMonitor computer monitoring software is now relatively well-known in the market, and trust by many large and small size enterprises.Its core team of professional software developers in a tune with programmers and testing experts has churned out spy software and advanced employee monitoring software. Not forget to mention its name as a latest and trusted computer monitoring software that helps in recovering every activity done over computer, tracking email and web mail, online storage usage, website search history, download and uploading details, program usage and time, and a lot more.With iMonitor monitoring software, business managers can easily master the staff's all computer operations , to find default timely,guide timely,adjust timely , deal with it timely and can effectively protect data security.
It has become the time trend that Enterprises use computer monitoring software to manage.Only efficient management can bring efficient performance, good management of employees can make sure your company a good tomorrow!