Protect your business with iMonitor EAM The most complete employee computer activities monitoring software
Anywhere Monitor - Worldwide Remote Computer Monitoring
Anywhere Monitor is the most popular remote monitoring software for home and office
---
Anywhere Monitor allows you to monitor remote user's computer activities from the INTERNET

. With Anywhere Monitor you can see everything they do with the computer by reports and remote desktop tool in real-time and from anywhere .

You even can open the remote camera to see remote user's behavior

.
Regardless of the person is at home or overseas, regardless of they are at work or on business, you can monitor and view their work in real time. Anywhere Monitor can record almost all computer activities, E-mail, file, website, chat, keystrokes, screenshot, applications, print jobs, usb stick insert / remove, FTP, clipboard, sytem events etc. It also allows you to block websites and application, manage files remotely and so on.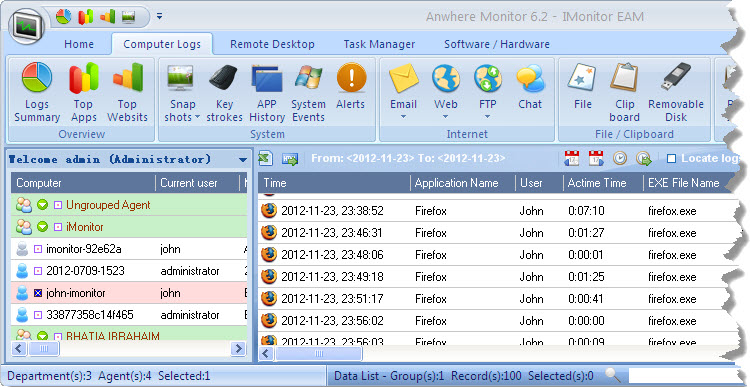 Please follow the steps below to start your Anywhere Monitor.
1. Choose a version. We have home version, standard version and professional version to meet different needs. If you are a parent, the home version will be the best choice for you, if you are a boss, you can choose the Standard version or the Professional version.
2. Place the order. If you want to evaluate the software, please download our demo application. It allows you to monitor the test computer
3. You will receive an email after we receive the order. The email contains your Anywhere Monitor account login information, and server address. you can login to start monitoring remote computer.
A. Install Anwhere Monitor Agent program onto the computer that you want to monitor.
B. Install Anywhere Monitor console program onto your computer, and you can login to start monitoring remote computer.
Back

---